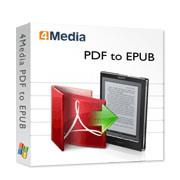 An EPUB is an electronic publication device. It allows people to purchase any desired readings they like online and they can read it on this gadget. The great thing about this device is that you can make the most out of the reading's text. In other words if you have a hard time reading books because of their small font, all you have to do with the EPUB is zoom in or turn the text into re-flowable style(word wrap).
Now you have the chance to not only read online books but you can access any PDF file you download. The PDF to EPUB converter saves you a lot of time and effort by converting PDF files available to be formatted into your own electronic books reader. The great thing about this program is that the PDF still retains its original features, so you don't have to worry about using a different program to read the file. In addition, the interface of the program is very intuitive. The design is so simple you can start converting PDF to EPUB right away.
The program features are very unique and allows you to save up on your EPUB's memory space. Let's say you only need to read the first couple of pages of the PDF file, you can set the number of pages that need to be converted into the EPUB just by selecting the specified pages. Also, if you are a multilingual reader, no need to worry about translating errors because the PDF to EPUB converter suits different languages, such as English, French, German, even Simplified and Traditional Chinese.
Originally posted on August 26, 2010 @ 9:31 pm